The majority of house sales happen in the Spring and Autumn. Sometimes the wait for a sale to go through in the Autumn can lead well into the Winter. It's important to be prepared for a move that's as smooth and comfortable as possible. Otherwise, you might very well find your new home is giving you a rather chilly reception.
Check out the home before you move
Thoroughly inspecting the home is important regardless of what season you're moving. In the Winter, however, you have to make sure that the home is connected to electricity and heating before you move in and that all your utilities are working without issue. Visit the home and test everything out a couple of days before moving in. This will make sure the house is warm when you move in and that the pipes aren't letting frost set in. Check that the heating is working in the car, too, and if it's a long journey, wrap up warm and bring a thermos full of a warm beverage.
Be ready for the drive
You will want to check more than just the heating for a long drive, too. Take your car to your mechanic and have them look at the engine, battery, and so on to minimise your chances of breaking down. Don't forget to stock up with a car emergency kit including a spare tyre and jumper leads just in case.
Look at the weather reports
A little flexibility over moving day, depending on the weather, can make a lot of differnce. To make the move on a day full of rain, sleet, or heavy snow isn't just less convenient, it can be genuinely dangerous. On some days, you might just need to be prepared to put on another layer to keep from the cold. Check the internet and radio regularly for weather updates if it's particularly fickle.
Ensuring a safer move
Your removal company will be moving in and out of the house a lot, so make sure it's safe for both you and them to do so. Clear any snow from the pavement, the path up to the home, and the driveway. Using salt or sand can make sure that it's not too slippery to stand on. Keeping a supply of mittens and hats, as well as tea, can make the experience a lot more comfortable for everyone involved, too.
Be ready for the first night
Getting unpacked and organised on your first day in the home gets a lot of the hassle out of the way quickly. However, you might not have the time to do that. If that's the case, pack an overnight bag with toiletries, medications, chargers, a change of clothes, and so on. But have a winter essentials box ready, too. Besides some snacks and bedding, this might include some extra blankets, the kettle and a hot water bottle. Have that box marked and kept convenient so you can reach in whenever you need it.
If you're moving in Winter and you haven't considered it already, think about getting a removal service to help you. More hands make light work and, in the Winter, that can make sure you spend less time in the cold, the wind, and the ice.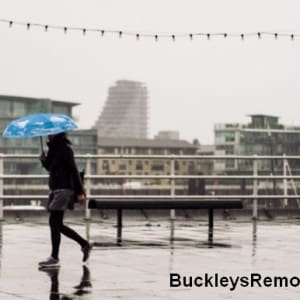 Contact
We would love to hear from you
Warehouse 2 294 Whit Lane,
Salford, Manchester
M6 6JJ
Get in touch