Buckleys Removals Manchester
Manchester Removals & Storage.
Buckleys Removals Manchester have over 30 years' experience delivering Manchester house removals and office removals. We pride ourselves on our professionalism and efficiency with every job. Our removals teams are dedicated to moving you into your new home or office quickly, safely and with the minimum of stress. All our removal's teams are specially trained and have years of knowledge and experiences in removals to ensure that all your possessions are treated with complete care and respect.
We're based in Salford, just outside the city centre, to the northwest of Manchester but we cover the whole of Greater Manchester.
House Removals Manchester
Moving house can be a stressful time, with all the solicitors and the paperwork, that's even after finding the right home. With all the constant stress, Buckleys House Removals Manchester aim to remove the stress from moving your precious belongings from point A to point B.
Why choose Buckley's for your home removal?
Our removals teams are experienced in moving large family homes, flats, and houses across Manchester since 1989 and have always adhered to our motto of quality, honesty, and reliability. We are proud members of The National Guild of Removers & Storers which allows us to be regularly monitored and inspected to provide you with peace of mind that we are a professional ombudsman approved removals company. We ensure every member of our team is fully insured, equipped, and trained in the latest health and safety measures to provide our customers with the highest quality service.
House Removals Manchester
A Company you can Trust
You want someone you can trust to move your precious belongings.
Buckleys Removals are a family company, run by the Buckleys, Janine, and Mark. We've been moving the people of Manchester for over 30 years, so when we say we've got experience moving everything you can count on it (up to and including the kitchen sink!). We're proud members of the National Guild of Removers & Storers, so you can trust in us to keep your items safe.
Experts in Removals and Storage
Buckley's Removal experts are happy to offer any advice and support you need during your move to ensure it runs as smoothly as possible. We pride ourselves on our customer service so much so that over 70% of our work is from recommendations and referrals alone! But don't just take our word for it, take at look at what our customers have to say about our removals and customer service!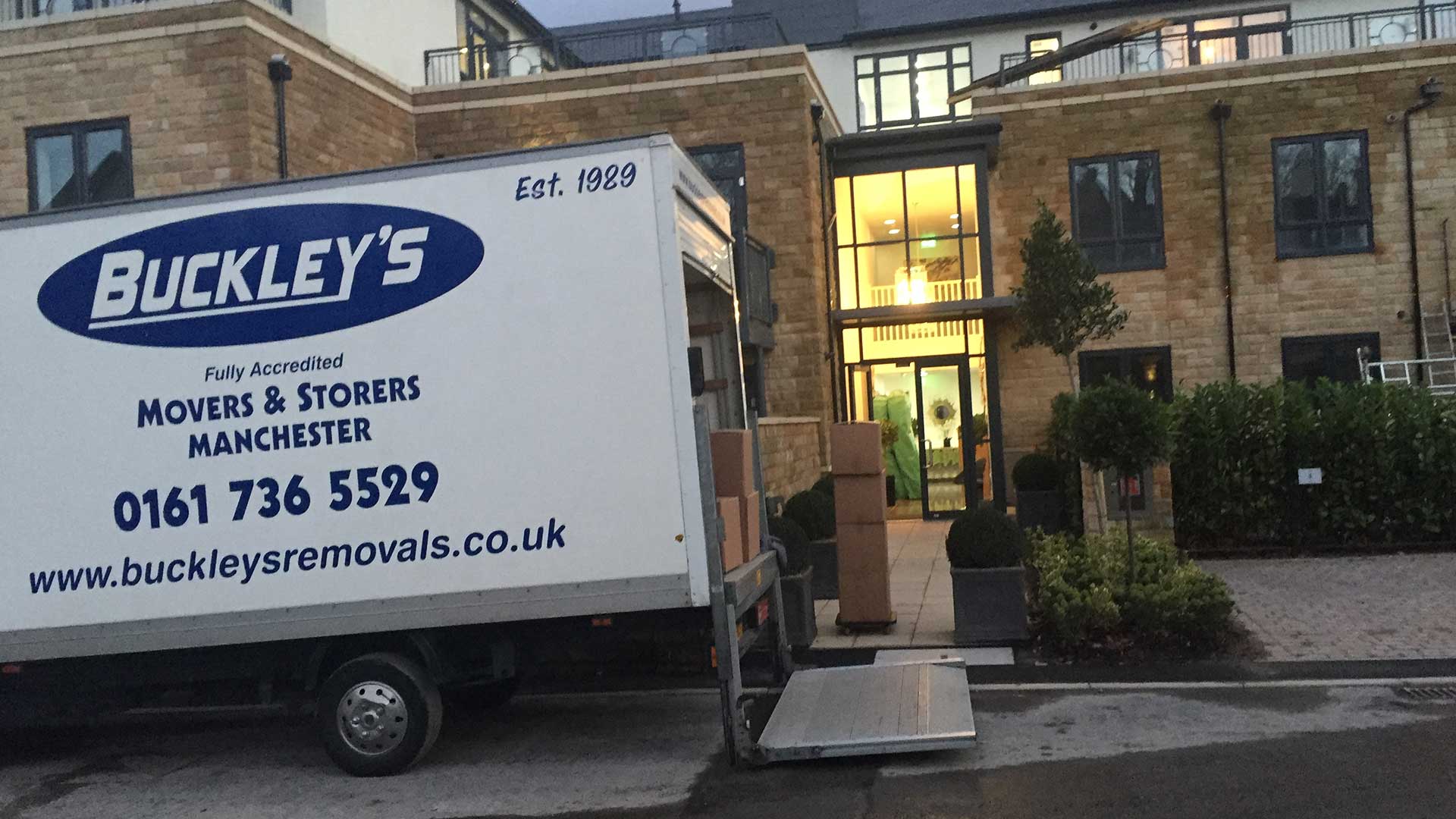 Office Removals Manchester
We have over 30 years of experience moving businesses in and around Manchester. Make Buckley's Removals your first port choice for all your business removals and storage requirements.
We have a full warehouse ready and at your disposal for your commercial move and our team is fully accredited by the National Guild of Removers and is regulated by the Removals Ombudsman.
Organising your Move
You may find one of the most difficult parts of moving is the packing and organisation of your belongings which is why we have a specialist removal planning team on hand to help.
Our team is dedicated to helping you successfully organise your possessions before the move by separating your items into groups of essential and non-essential to prepare your home for moving day.
We also have fully trained packing team that you can arrange to visit your home and with your supervision, carefully pack your items ready to be transported to our secure storage unit.
Your items can then be delivered to your new home on your day of choice whether that be the day you move in or shortly after!
Removals packing services – Take the stress out of moving
Not only can moving be taxing on the mind but also on the body, lugging all of your items around, boxing it all up and staying organised can be a heck of an exercise, so why not leave it to us?
Our packing team can come to you, with your guidance, pack up all the non-essentials prior to the move to get them out of the way and make it easier. Then, on the day we can pack the rest up and work in tandem to make sure everything goes right back where it should in the new house, you won't have to do a thing! We provide the materials and the muscle to help you move swiftly and easily.
If you're planning to move home in Greater Manchester feel free to contact Buckleys House Removals Manchester at info@buckleysremovals.co.uk or give us a call on 0161 736 5529 and one of our team will be more than happy to provide you with more information on our removals services!
Keep your items safe with our trusted storage
We understand that sometimes things don't go smoothly, especially in the world of removals, and we're here for you. We have a dedicated warehouse in Salford, Manchester where our expert team of removers can keep your items safe while you iron out the details. You won't have to worry about your items getting lost or damaged as with larger removal companies, and you can call in on us anytime to retrieve your belongings.