Places You Can Move to Within 30 minutes Commute to Manchester
Manchester is an incredible city that boasts many attractive elements, not least with regards to careers. Still, while it might not be as chaotic as London, living in the city centre isn't for everyone.
Whether it's due to finances or personal preference, living just slightly outside of Manchester can hold many advantages. There are many fantastic places to live within half an hour's commute. For those who want to move out of the city, as well as those who are relocating to the north west from further afield, here are the best.
Rochdale
Going north of Manchester, Rochdale is just a 16-minute train journey to Manchester Victoria. This makes it the ideal location for anyone wishing to commute into the city. Meanwhile, a car journey time of a little over half hour is more than doable.
Rochdale offers plenty of natural landmarks for enjoyable weekends and a great quality of life. Many people find that cheap housing coupled with the city wages makes it a far more attractive option than life in Manchester itself.
There's a lot to love about Rochdale, and being the perfect distance outside of Manchester is just one of them. For anybody considering a relocation to the area, it is a certain contender.
Ashton-Under-Lyne
Situated on the north bank of the River Tame, Ashton-Under-Lyne isn't only bursting with great history. It is a market town in proximity to the foothills of the Pennines that is home to over 45,000 happy residents.
The town has just the right blend of activity and tranquillity to keep any commuter happy. Moreover, with average semi-detached house prices tracking around £150,000, getting on the property ladder is easy.
A train journey to Manchester Victoria takes under a quarter of an hour, which is ideal for anyone working in the city. Alternatively, as long as traffic is kind, you can drive it well under 30 too. All in all, it's a fantastic option for those seeking a new home just a little outside of Manchester's busy centre.
Wilmslow
Located just 18km from Manchester, Wilmslow is easily one of the most sought after areas in the region. It boasts some of the area's biggest multi-million-pound properties. Many of those are home to footballers, TV stars, and successful entrepreneurs.
Wilmslow can cater to the average homeowner too, however, with many affordable properties located in the Cheshire town. Living here leaves you less than 20 minutes from Manchester via train, allowing you to enjoy the delights of the city with minimal hassle. Meanwhile, the tranquillity of the area, which is right by the River Bollin, makes it the perfect place to step back from the stresses of modern work.
And it also leaves you a little closer to other noteworthy places like the Peak District too.
Prestwich
As far as location based on the outskirts of the city centre are concerned, Prestwich is easily one of the most attractive. It boasts a family-friendly vibe with great schooling facilities and a great community atmosphere. This is all supported by growing trade.
Property prices may be a little higher than some of the other towns on this list. Still, with a drive time of just over 10 minutes into the city centre, it's not hard to see why. Prestwich boasts the ability to satisfy residents of all ages. Meanwhile, the proximity to Manchester is simply brilliant for sociability as well as business.
Anyone that still wants to feel the benefits of city life without having the drawbacks should consider Prestwich as a potential home.
Wigan
With a train journey time of 29 minutes to Manchester Victoria, Wigan only just sneaks in as a commuter destination. Nevertheless, given that it does, its charms should be ignored at your peril. The town is home to around 100,000 people and is almost equidistant to Liverpool. So, it is perfect for anyone that still requires some excitement without the negatives of city life.
Property prices are pleasing while schooling and local amenities are equally positive. There's a good community vibe throughout a town that has plenty to boast even without the reliance of those nearby cities. Sports fans can also enjoy the rugby and football teams.
Wigan is also home to a number of landmarks and points of interest, meaning you'll never get bored with daily life. Commuting to Manchester might take a few minutes longer, but the benefits vindicate that additional effort.
Middleton
Just 6.5 miles separate Middleton from central Manchester. So, it can easily be covered by car within 30 minutes even when you hit slight traffic. In truth, though, the short commuting time is just one of the many selling points of a town that is also just four miles from Rochdale.
While it's a peaceful town, Middleton does boast its own business giants with sports retailer Kitbag being one of the most famous. With several landmarks and entertainment features located in the area, it's a great place for weekends and evening activities.
A terraced house will often cost under £100,000 too. Therefore, it's a very affordable option for first-time buyers or those that want to be left with money for enjoying life to the fullest.
Stockport
Just seven miles south of Manchester, Stockport is another popular location for commuters to start their new lives. The large town has a population of over 135,000, and many of those make the nine-minute train journey to Manchester Piccadilly on a daily basis. The fact that this line also serves Birmingham and London is a selling point for those that do business on the go.
As a place to live, Stockport has bags to offer. Average house prices are around £200,000 while there's plenty of beautiful scenery as well as activities for individuals and families. The entertainment facilities are pretty good too. Then again, Manchester is easily accessed if you want to visit during your leisure time.
While nearby Altrincham is a favourite too, Stockport probably stands out as the best place for those looking to travel minutes south.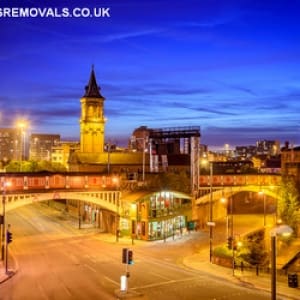 Contact
We would love to hear from you
Warehouse 2 294 Whit Lane,
Salford, Manchester
M6 6JJ
Get in touch