Moving to Manchester? An introduction to the city
Manchester is a truly one-of-a-kind city, with a buzzing cultural scene and a timeless English attire. This city is the UK's second largest city, right after the hustle and bustle of the country's capital, London.
Much like the capital itself, Manchester is home to a culturally diverse community and it is a growing market attracting talents from all over the world, looking to work within one of the many world class companies based in the city, as well as pursue higher education in Manchester's diverse cultural landscape. If you are also planning a move to Manchester, you will be delighted to learn that this charming city has a very international feel, which will make you feel at home, whether you are a local or an exact coming from another country.
If you are moving to Manchester, chances are, you will be working within the local business industry, become a researcher within the well-developed local academic world, or even start a study program at the local university.
Manchester isn't all about work and study: this is a young city at heart, home to some of the best music in the country: English music legends such as Oasis, The Smiths, The Stone Roses or even The Chemical Brothers are proud to call Manchester their home, and their unique sound put the city on the map on a global scale.
The local sporting culture is also a big part of the city's identity: Manchester United, the local football team, is very important to many people, and it is almost like a religion to some! With its explosive mix of professional opportunities, great higher education alternatives, entertainment, art, culture and activities, you might just fall in love with this city, and perhaps, you might end up staying longer than you originally expected!
Many people also prefer to move to Manchester because of a very simple and obvious reason: the city offers all the perks you would expect from a main metropolitan area like London, without the hassle of the huge real estate expenses. London's insanely high costs to rent or buy property are well-known throughout the world, and Manchester is definitely a more viable and cost-effective alternative for people who simply cannot afford to live in London.
On the other hand, settling for Manchester should definitely not be seen as something like making a compromise. This welcoming city has higher living standards than the capital, and it is generally considered cleaner and safer.
How about the weather? Well, this is England, so you might expect some rainfall and some cold winter…but the reward is a mild, nice summer and a beautiful spring time!
Welcome to Manchester.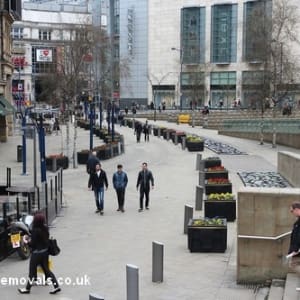 Contact
We would love to hear from you
Warehouse 2 294 Whit Lane,
Salford, Manchester
M6 6JJ
Get in touch