Moving house with elderly people, Manchester
There are plenty of reasons you may be involved in moving house with an elderly relative or friend.
Generally speaking, people's experience falls into one of two categories: assisting an elderly person in moving into their new property; secondly, you and your elderly relative or friend are moving into a new property together. Whatever the situation, this guide will hopefully highlight some useful points to consider when moving house with elderly people.
It is important for everyone concerned to remember that moving house really is a 'team' operation. By breaking the move down into small achievable tasks, the daunting task of moving can become less of a burden for everyone. For example, good delegation in terms of: labeling items, packing, organising a removals company, cleaning the current property, contacting the post office for items to be forwarded to the new property, contacting utility companies and internet providers, contacting previous and new GPs, as well as any other possible considerations are all best done in which includes everyone involved in the move.
It is easy to overlook the needs, physical and emotional, of older people at a stressful time like moving, but is also important to remember the fact that it is probable that they have moved house more times than you, and that they may have ideas and suggestions that haven't been considered. It is also vital that elderly people are involved in the moving process so they don't feel patronised or useless. Moving can provoke all manner of emotions, especially if someone has been at a property for a long time, and it is especially important to be sensitive and understanding in this situation. Not being bossy, and allowing plenty of time for each stage of the move is, therefore, very important indeed.
Depending on the distance to the new property, it is possible that people will have to find a new sense of community in a strange place. With advances in the modern technology, much of this can be researched in advance, but it may also be worth considering going on a few visits before the move to see what there is to do near the property. This can also be useful in terms of finding a new GP and dentist. Perhaps the best person to make suggestions about local amenities is the current owner of the property and they may well be able to provide you with a good insight into the local area.
One of things that can be most challenging for anyone moving house, but especially for those who have been living somewhere for a long time, is de-cluttering. Deciding what is necessary for the new property is relatively easy, but then seeing what the new space will allow versus belongings that people may feel very nostalgic about is understandably difficult. Allowing older people the time to sort through their possessions is key, and trying to make the decisions as free from pressure as possible is also important.
Research shows that moving house is almost always a stressful time, for young and old alike, particularly if you are moving with other people. But with careful planning, as well as consideration for everyone's particular needs, the results can be exceptionally rewarding.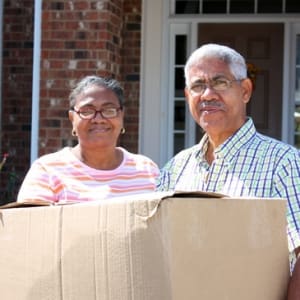 Contact
We would love to hear from you
Warehouse 2 294 Whit Lane,
Salford, Manchester
M6 6JJ
Get in touch