Making the most of your Manchester Loft Space
Small spaces in our homes, or maybe you are moving to a new home in Manchester, are often left unused or are sometimes stuffed with various things in a haphazard manner that are then never found. Using the loft in a more efficient manner is one important task when you are arranging your home. The things to be focused on in the process are: to make sure that all of the space is utilized to the fullest, the newly designed place should be useful, the overall look of the space is presentable.
A few suggestions given below can help you stir up your creative thoughts and inspire you to use or convert that underused loft space.
1. Library/Reading Room in your Manchester Loft
Who doesn't want to read books, and if you are a big reader, of course you would love to have a small library of your own at home. Making a small cupboard or a few shelves in your attic to stack a few books. Also, you can arrange a few chairs and some tiny tables there to read in a quiet place. Obviously it's ideal to get some roof light windows installed if your loft doesn't have them.
2. Office in your Loft
Keeping a private workplace at home sometimes becomes quite necessary. What can be a better place for this than your loft room? There you can stay away from the tasks of home and give some devoted time to your work. Just by keeping a small portion for your important files, your laptop, and a nice place to sit, you can quickly develop an office at home.
3. Kids' Playroom in the Loft
When you have a few kids at home and you want them to play without creating mess in the living rooms, you can design your attic in a way to serve as a playroom for kids. The children can enjoy their play time without disturbing you while you are busy with your chosen tasks.
4. Games Room in the Loft
If you are a gamer and want a dedicated place where you can do nothing but play all day long, especially on weekends, you definitely need a spot that is away from the 'disturbances'. A single table with a chair and a little place for your gaming devices is all you need. This much space can be easily created in your attic where you can enjoy your gaming experience.
5. Home Gym in the Loft
When you care for your fitness and want to stay in shape, you need a home-based gym. Keeping your fitness equipment in one dedicated room where you can focus on your exercise can help you achieve your fitness goals. This room can definitely not be one of the living rooms, so you need to move to your loft, which offers enough space.
6. Storage Room the classic use for a loft
A really cool and functional storage room can also be established in your attic, if you are short of space anywhere else in your home. Obviously large items like furniture or items you are packing for a future house removal might need to be stored by a professional storage company like Buckley's removals and storage of Salfords, Manchester.
There are several other ways in which you can make the most of your loft space at home. Keep in mind, all you need is the maximum usage and better outlook.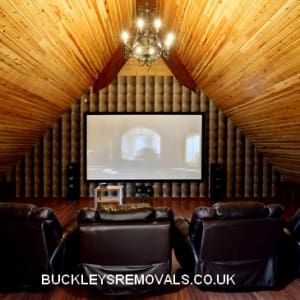 Contact
We would love to hear from you
Warehouse 2 294 Whit Lane,
Salford, Manchester
M6 6JJ
Get in touch